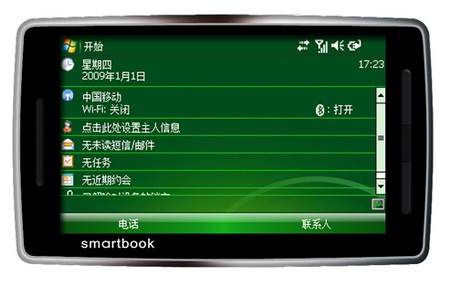 Chinese company QiGi drops the Smartbook U1000 Mobile Internet Device running Windows Mobile 6.1 in China. Sporting a Marvell PXA310 624MHz processor, the U1000 has 128MB ROM and 256MB of RAM. It gets a large 5-inch 800×480 LCD touchscreen.
QiGi's Smartbook has a built-in 3.2 Megapixel camera, GPS receiver, support for quad-band GSM/EDGE network, WiFi connectivity, Direct 3D engine and G-Sensor. The device supports up to 32GB microSD memory card. It's 1900mAh battery provides up to 150 hours of standby and 200 minutes of talk time.
QiGi Smartbook U1000 is just 11.8mm thick and weighs only 187g. It costs 2280 Chinese Yuan (US$ 334).