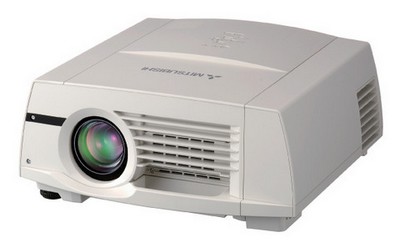 Mitsubishi offers the FL6900U, a 3LCD technology-based projector that can deliver Full HD 1080p native images. The Mitsubishi FL6900U offers a 4000 ANSI Lumens brightness, 60-205-inch viewable size, 1000:1 contrast ratio, and up to 4000 hours of lamp life (runnnig in low mode).
The Mitsubishi FL6900U has DVI-D Input (HDCP), Mini D-sub, RCA, S-video, and 3.5mm stereo jack inputs. It has integrated 10W mono speaker, RJ45 connector for network connectivity and supprot for USB mouse.
The Mitsubishi FL6900U LCD projector is priced at $9,995.