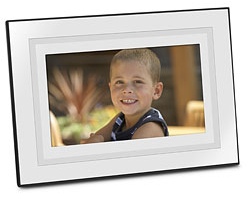 Kodak introduces the new EasyShare P720 and P520 digital frames. Both frames feature the Quick Touch Border that allows users to navigate easily through your pictures and keeps fingerprints off of viewing screen.
The EasyShare P720 has a 7-inch LCD display while the P520 has a 5-inch screen. They have SD memory card slots and a USB port for USB flash drives.
The P720 is available now for $119.95 and the P520 will be released next month for $79.95.