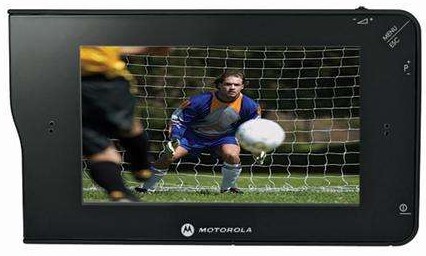 Motorola introduces Mobile TV DH01n, which is actually a GPS-enabled Mobile TV DH01. Motorola Mobile TV DH01n supports DVB-H broadcast, 2D or 3D GPS and Tele Atlas map views.
Other than media playback functions, you can also record live TV signals to SD cards.
Lightweight pocket-sized Mobile TV DH01n supports:
* High-quality live digital video broadcast over the DVB-H standard
* 90 minutes of video on a 256MB card
* Convenient automatic channel scan and channel listing
* Personal content like video, music and pictures on SD/MMC cards
* Recording, pausing and playing back live TV signals with secure memory card support
* Four hours of playback time.