Cowon has the L2 portable media player with also the GPS navigation feature. The Cowon L2 has a 7-inch TFT LCD display with 480×234 resolution, 500:1 contrast ratio and 420cd/m2 brightness. The Cowon L2 is powered by an ARM926EJ-S 266MHz and ARM946ES 266MHz processors, 64MB SDRAM and 2GB of NAND flash memory.

Cowon L2 features the SiRF III GPS chipset and it runs the Windows CE 5.0 OS. Not only GPS, the L2 supports also the DMB digital TV reception. It playsMP3, WMA, ASF and WAV music files, MPEG-4 videos as well as JPG, BMP and PNG image files.
Cowon L2 has a SD card slot for expansion, InfraRed and an USB2.0 port.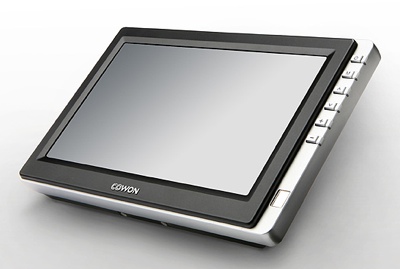 [Cowon]