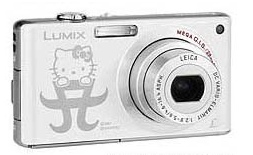 Avex offers the special edition of the Panasonic LUMIX DMC-FX30 digital camera featuring ayumi hamasaki, a Japanese singer, and Hello Kitty.
The ayumi hamasaki—Hello Kitty' Edition of the FX30 has exactly the same features as the original one, such as 7.38 Megapixel CCD sensor,3.6x optical zoom, 28mm Wide-Angle, ISO rating up to 3200, Venus Engine III image processor, and a 2.5-inch LCD display. It adds the Hello Kitty and the logo of ayumi hamasaki.
The 'ayumi hamasaki—Hello Kitty' FX30 comes with a special case for the camera.