TomTom offers the ONE XL personal GPS navigation device with widescreen. TomTom ONE XL is powered by a 266 MHz CPU and 32MB RAM. It features high sensitivity GPS chipset, and has a 4.3-inch TFT LCD touchscreen, Bluetooth.
TomTom ONE XL measures 4.7″ x 3.4″ x 1.2″ and weights 7.4 ounces. It is priced at $399.95.
After the break is the full feature list.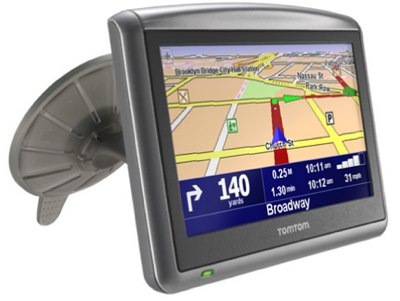 EASY TO USE:
* Plug & Go: Works straight out of the box.
* Large 4.3″ touchscreen.
* Easy-to-use navigation: with user-friendly menu and TomTom's award winning software.
* Tip Feature: discover everything ONE XL has to offer through useful onscreen tips.
* Portable, light and easy to handle.
GREAT NAVIGATION:
* Find your location faster than ever before with TomTom's free QuickGPSfix software.
* Fast route calculation and re-routing around roadblocks and traffic.
* Large choice of routes: including fastest, shortest, non-toll roads, highways and more.
* Itinerary Planning: plan your trip by defining multiple waypoints and destinations.
* Route planning based on desired arrival time.
* Optional warning when exceeding recorded speed limit (if available from map data).
* Car speed linked volume: volume of voice instructions will increase/decrease depending on speed of car.
* Anti-Glare Screen: always an optimal view.
* Ready for real-time traffic services: click here for traffic subscription.
CLEAR INSTRUCTIONS:
* Crystal clear 3D or 2D graphics for perfect viewing day and night.
* View Route: review and test the calculated route before you start driving.
* Clear spoken instructions in your own language (36 languages to choose from and 55 different voices available).
* User Interface: now including 22 languages.
* Sign post information (if available from map data) displayed in navigation mode.
* Compass Mode: displays compass on screen to have even better orientation while driving.
SERVICES & SMART EXTRAS:
* Built-in Bluetooth technology for Tomtom PLUS services
– Easy connection process to your mobile phone
– Remembers up to 5 different mobile phones to connect to
* Ready for TomTom PLUS services: real time information on traffic congestions, weather conditions and extra downloads such as detailed city maps, scenic routes, adittional voices, points of interest and much more.
(Subscription and mobile phone with Bluetooth and GPRS needed)
* TomTom HOME: Exclusive easy access to celebrity voices, map and software upgrades, more points of interest, QuickGPSfix, and more.
* Buddy finder: instant messaging and navigation come together. Navigate to your friends easily and quickly, wherever they are.
* Millions of points of interest pre-installed: including hotels, restaurants, gas stations, golf courses and many more!