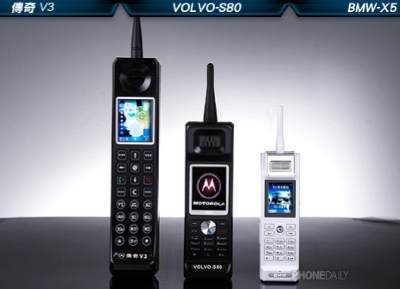 Well, these are not cars, they are just GSM/CDMA phones in retro style. The Legend V3 is the largest one, it actually uses Motorola RAZR V3's firmware, and it features a 0.3 Megapixel camera, Bluetooth.
Volve S80 is a bit smaller than the V3 and it is a CDMA phone. Again, it uses firmware from other Motorola phones.
BMW X5 is a GSM phone and it is the smallest one among the three. It has a 1.5-inch LCD screen, a 2 Megapixel camera, built-in Music player.
Both Legend V3 and Volvo S80 are powerer by a 4800 mAh battery and the BMW X5 is powered by a 2600 mAh battery which mean they have a long lasting battery life.
You can get these phones in Taiwan or Hong Kong.