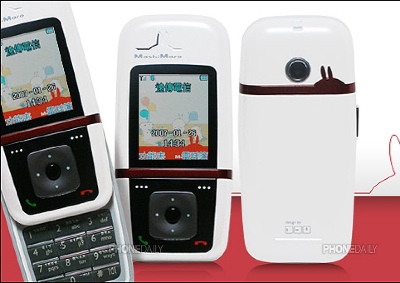 We have seen several Cartoon-themed mobile phone from Taiwan, such Keroro Phone, Little Twin Star phone. Now we have the MashiMaro M808 mobile phone. The MashiMaro M808 is a slider phone featuring a 1.5-inch 65k color TFT screen, a 1Megapixel camera, media player supporting MP3, MIDI, WAV files and a microSD slot.


Of course it comes with MashiMaro wallpaper, theme, ringtones. The MashiMaro M808 will be available in 1st Feb 2007 with a price of 9,900 Taiwan dollars.
Mashimaro is a Korean character created by Jae In Kim. It looks like a fat rabbit features in a series of Flash animations. You can often seen Mashimaro merchandise, similar to Hello Kitty.